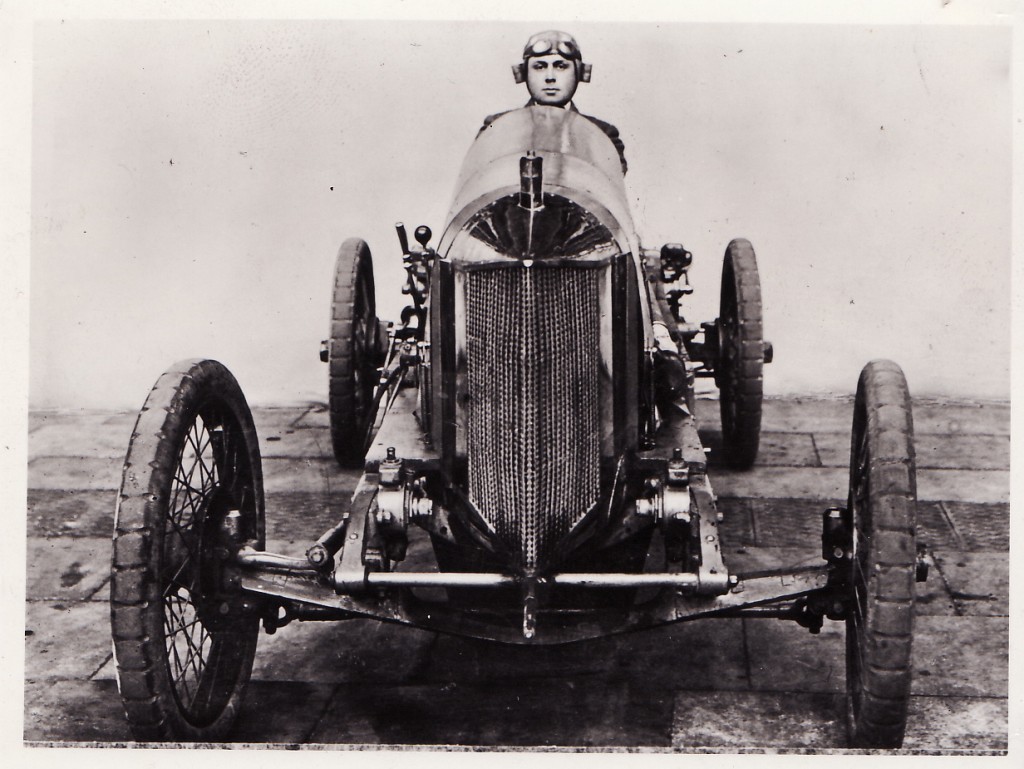 Coatalen, Louis Hervé (1879–1962), designer of cars and aero-engines, was born on 11 September 1879 at Concarneau, Finistère, the second son of a hotelier and wheelwright, François Marie Coatalen, and his wife, Louise Le Bris. From grammar school at Brest, he went to the École des Arts et Métiers at Cluny, then started as a draughtsman with De Dion-Bouton and afterwards with the Clement Company and Panhard and Levassor. Seeing greater opportunities in the motor industry in England, in 1900 he joined the Crowden Motor Car Company at Leamington Spa and then at the age of twenty-one became chief engineer with Humber at Coventry. For them he designed two models which restored the company's fortunes. The 10/12 hp model was so successful that the works had to be expanded and profits attained figures that were not to be equalled for a quarter of a century. He drove a Coventry Humber in the 1906 Tourist Trophy race, finishing sixth.
In partnership with William Hillman of Coventry from 1907, Coatalen designed the 24 hp Hillman-Coatalen car with which he put up the fastest lap in the 1907 Tourist Trophy race before crashing at Quarter Bridge.
Thomas Cureton, managing director of the Sunbeam Motor Car Company, Wolverhampton, engaged Coatalen as chief engineer in February 1909 and his first product, the 16/20 hp Sunbeam, distinguished itself in the Scottish Six Days Trial in the same year. Encouraged by this, a smaller 12/16 hp model was produced which proved an even greater success. This model and its subsequent development established Coatalen's reputation as an automobile engineer and put Sunbeam in the forefront of motor manufacturers. During the next twenty-one years Coatalen produced a succession of touring cars, luxury cars, racing cars, record-breaking cars, and aero-engines which won international fame for Sunbeam and its associated marques, Talbot and Darracq. Coatalen was first married in 1902, in Birmingham, to Annie Davis; they had one son. The marriage ended in divorce, and on 3 September 1909 he married Olive Mary, daughter of Henry James Bath, one of Sunbeam's directors; they had two sons. Coatalen acquired British nationality during the First World War. He was divorced in 1922 and on 31 January 1923 married a divorcee, Iris Enid Florence van Raalte (née Graham); they had one daughter. This third marriage lasted until 1935, when he married Emily Bridson, who remained with him until his death.
Coatalen wrote in 1924: 'Racing car practice accelerates development. Racing stimulates designers and engineers and raises the morale of the factory workpeople.' He drove Sunbeams in races at Brooklands and entered them in the voiturette races run by L'Auto in France. They competed in international grand prix races and set up many world records. They held the Brooklands lap record five times and the land speed record in 1922 and 1924–7. Sunbeam cars won the Coupe de L'Auto in 1912, the Tourist Trophy in 1914 and 1922, the French grand prix in 1923, and the Spanish grand prix in 1924. The 1.5 litre Talbot-Darracqs were invincible in voiturette races from 1921 until 1925.
Coatalen was not only a competent engineer but also a skilled impresario, quick to spot and use the abilities of others. He engaged the design talents of Ernest Henry, Vincent Bertarione, Captain J. S. Irving, and others. The racing cars were handled by the leading drivers of their time: Sir Henry Segrave, K. Lee Guinness, Sir Algernon Guinness, Dario Resta, Jean Chassagne, Albert Divo, Réné Thomas, Sir Malcolm Campbell, André Boillot, J. Moriceau, George Duller, Count Masetti, and Kaye Don.
The Sunbeam company was among the first to standardize overhead valve engines and four-wheel brakes and in 1925 produced a twin overhead camshaft 3 litre sporting model. The company also played an important role in the development of aero-engines. The Crusader 150 hp V8 was already in production before the outbreak of war in 1914. Lessons learned in racing were applied to meet the ever-increasing demands from the services for more power. Over twenty types of Sunbeam aero-engines were designed and produced and power output rose from 150 to 900 hp. Sunbeam-Coatalen engines were fitted to the British airship R34 which made the first out-and-home flight across the Atlantic in 1919. The French government nominated Coatalen chevalier of the Légion d'honneur for his work on aero-engines for the allies.
The development of a Sunbeam-Coatalen diesel aero-engine was undertaken in 1930 but economic conditions and Coatalen's ill health held it back. He was then living and working in Paris and Capri. With his stimulating influence removed, the fortunes of the Sunbeam Talbot Darracq Group declined and in 1935 it was taken over by the Rootes Group under W. E. Rootes. Meanwhile Coatalen became chairman and managing director of Lockheed Hydraulic Brakes in Paris and chairman of KLG Sparking Plugs (France). He continued his work on diesel aero-engines using a Hispano-Suiza engine which he converted using very high pressure injection. In 1953 the Société des Ingenieurs de l'Automobile elected him its president, and in 1954 he was made officier of the Légion d'honneur. He was actively engaged in his work until his death in Paris on 23 May 1962.
Sources:
The Times (25 May 1962), 18d · The Times (1 June 1962), 21b · Automotor Journal (2 Dec 1911) · Autocar (1924) · Autocar (5 Sept 1979) · I. Nickols and K. Karslake, Motoring entente (1956) · A souvenir of Sunbeam service, 1899–1919 (1919) · The history and development of the Sunbeam car, 1899–1924 (1924) · Motor Sport (Sept 1979) · WWW · L. Pomeroy, The evolution of the racing car (1966) · m. certs.
Anthony S. Heal, 'Coatalen, Louis Hervé (1879–1962)',