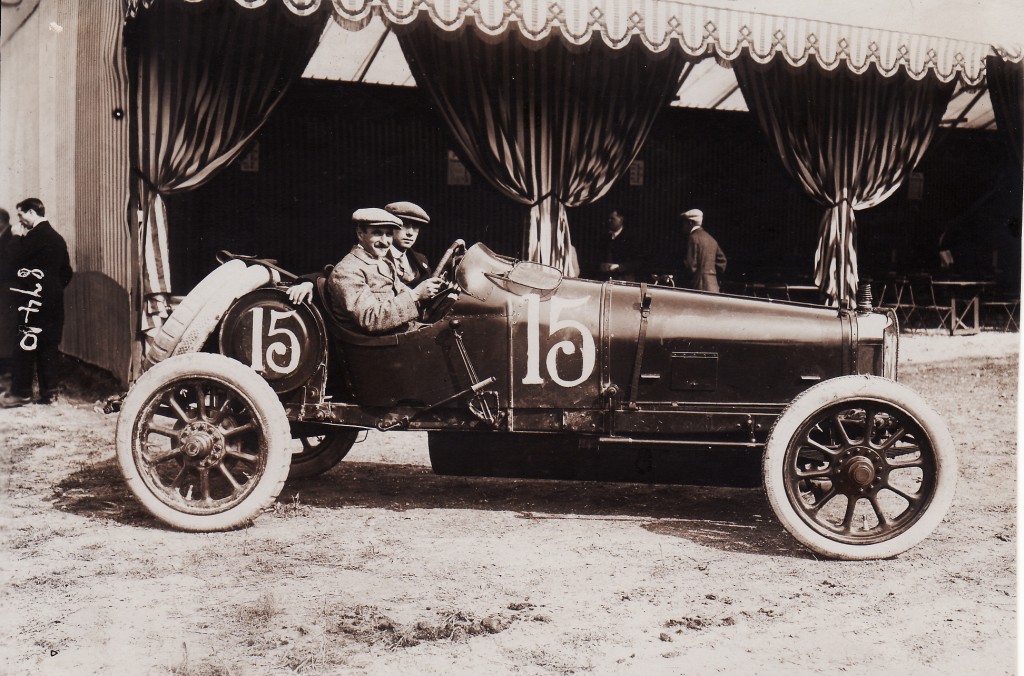 Racing with Sunbeam 1912-1919:
In 1909 the British Sunbeam firm engaged the energetic and ambitious Breton Louis Hervé Coatalen, (1879–1962) as a Chief Engineer. Racing enthusiast Coatalen was to transform the Wolverhampton firm to become the foremost British exponents of motor racing internationally at the highest echelons. It was Coatalen who in 1912 engaged his countryman Jean Chassagne as part of his winning racing team. In 1912 Coatalen entered a team of four race modified 12/16 Sunbeam cars to compete in the Coupe de l'Auto which was run concurrently with the French Grand Prix de l'ACF at Dieppe. Victor Rigal with Jean Chassagne as riding mechanic not only won the Coupe de l'Auto outright but was placed third in the Grand Prix against the large Grand Prix cars with engines three and five times the capacity of the Sunbeam.
Motorboat racing in Monaco was a convenient test bed for engine technology and in 1913 Coatalen and Chassagne in a Sunbeam powered boat took part in the event. That same year, Jean Chassagne was promoted to a Sunbeam Works Team driver and in the French Grand Prix at Amiens Chassagne came 1st of the Sunbeams and 3rd overall. Later that year at the Coupe de l'Auto at Boulogne Jean Chassagne with his riding mechanic A P Mitchell retired on the seventh lap when lying 3rd with a rear axle failure.
On 02 October 1913 at Brooklands Jean Chassagne alternating in 2-hour spells with Dario Resta & K. Lee Guinness of the eponymous Stout dynasty, set up a series of long distance World Records with a Sunbeam Grand Prix fitted with a Single- Seater body. Two days later again at Brooklands, Jean Chassagne with the Sunbeam Toodles V, won an event against Lambert's Land Speed Record holder Talbot. On the same day and with the same car Chassagne made the fastest Brooklands race lap to that date. A few days later, Chassagne and Toodles V set up further long distance World Records.
In 1914 Chassagne continued to set up World Records for Sunbeam at Brooklands with Toodles V. Chassagne took part in the Monaco Motor boat races with 'Toto' a 2.5lt dohc four valve per cylinder Sunbeam powered racing boat; this may have been a test run for this new engine design ; similar designed engines built in the manner of the Pegueot 'Charlatans' from which the design was derived were used in that year's Grand Prix Sunbeam racing motorcars . Travelling to the USA for the 1914 Indianapolis 500 Mile, Chassagne with his riding mechanic A P Mitchell in 'Spotty' a 1913 Sunbeam G.P. car , qualified at 88.310mph but crashed on the twentieth lap due to burst tyre. Shortly after in the historic French Grand Prix in the newly designed 4cyl 4.5lt dohc Sunbeam, Chassagne made fastest lap but retired on the thirteenth lap due to big-end failure.
The Great War was looming and on commencement, Chassagne enlisted in the Artillery Corp despite several requests to join the Flying Corp; shortly after in 1915, under the request of the British Admiralty he joined Sunbeam to advise, develop and test aero engines for the war effort.