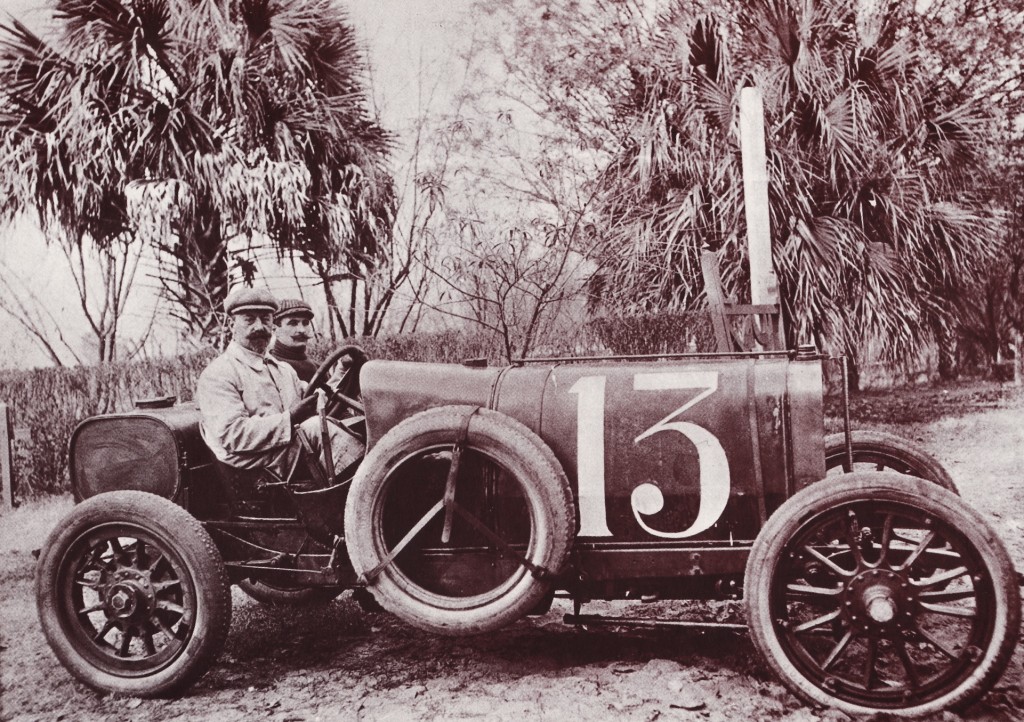 Pioneering Motorcar Racing and Aviation 1906-1912:
In 1906 June 26/7 the first French Grand Prix de l'ACF was held in Le Mans; Rene Hanriot driving a Darracq was joined by his long time friend Jean Chassagne as a riding mechanic but had to retire due to engine trouble. Chassagne continued working at Darracq as a mechanic for two years until 1908 acting as riding mechanic during the heroic pioneering age of racing to Hanriot, Hautvost and Demogeot. In 1908 Chassagne travelled to the USA for the American Grand Prize, Savannah, where he was again a riding mechanic to Hautvost on a Clément-Bayard.
During this period, Chassagne was also working at Clément-Bayard, Senat workshops for airships and race-car engines on the development, assembly and testing of the experimental Demoiselles Santons-Dumont monoplanes. Development, assembly and testing of the first Hanriot Monoplanes, Reims followed and in August 1910 Chassagne received his pilot license certificate no. 160. He subsequently participated in various events including the 'Baie de Seine' estuary crossing; winning the Liege altitude & speed prizes. Chassagne crashed in Deauville due to engine problem but escaped with only a few splinters from the wooden frame in his thighs. He was then appointed Chief Pilot to Hanriot Flying School where he trained many of the early pioneering aviators and in 1911 he became Director of the Algeciras Flying School, Spain where he was responsible for the training of Spanish officers. In 1912 Chassagne was again flying with Clément-Bayard where he was responsible for the testing and development of the new aero engines in long-distance flights such as Paris to Reims, Paris to Mourmelon to Reims to Soissons and to Paris, as well as, remarkably Issy to Reims. That year Jean Chassagne met Louis Coatalen, joined the Sunbeam racing team and withdraws from flying.
Throughout this period, Chassagne combined his aviation activities with racing and with the Hispano Suiza Racing Team in 1910 he competed at Coupe des Voiturettes, Bolougne gaining second place and in the Catalan Cup Race a forth; later taking part in the famous Mont Ventoux Hillclimb. It is at Hispano Suiza that Chassagne was acquainted with Works drivers Pilleverdier and Zucarelli the latter becoming with Georges Boillot, Jules Goux & Ernest Henry the Peugeot 'Les Charlatans' who revolutionized racing with the twin cam over head, four valve per cylinder engine design.