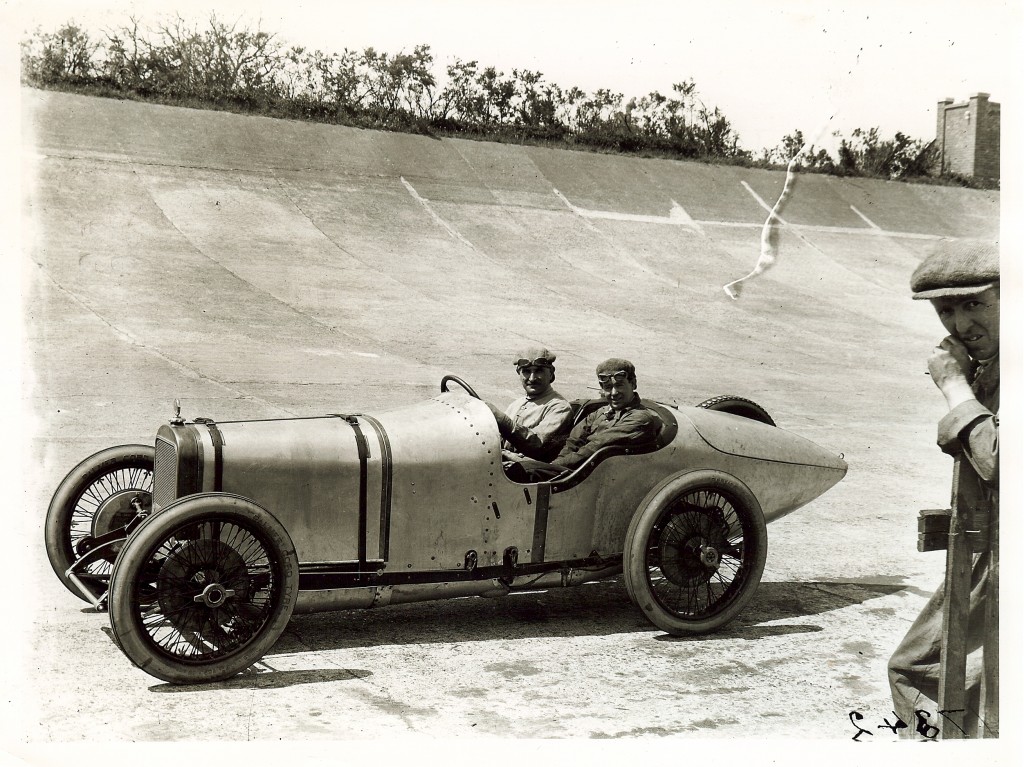 Test / Practice car No.4 :
Chassis previously No.4 now stamped No.1.22 but not in Sunbeam typeface -varies on either dumbirons
Engine stamped No.4 over-stamped 1
Identity plates attached to the firewall and cockpit are stamped 'Engine No.1' and 'Chassis No. 1' but were made in the 1970s.
Registration number DA6436
Test / Practice car – the first car to be built ; unpainted it was tested by J Chassagne the liaison officer for the project at Brooklands ; this resulted in variety of modifications notably re-configuring of the support bracket for the tail. It was shipped to the Isle of Man registered DA6436 and was tested again during practice for the 1922 Tourist Trophy and was found comparable to the 1922 3-litre Tourist Trophy Grand Prix Sunbeams. Later that year in Strasbourg, it was used by all three Team drivers for practice until it's engine was ruined by fire before the race. It was found fire damaged ; works and modifications to engine and body ensued and private entries in speed events were made before the war. In 1941 engine was removed and Riley engine and ENV gearbox used , a year later the body was replaced with a new full width two-seater body. Post war it passed through several hands and in the early 1970s it was rebuilt and rebodied with a 1922 Strasbourg style body as an authentic example.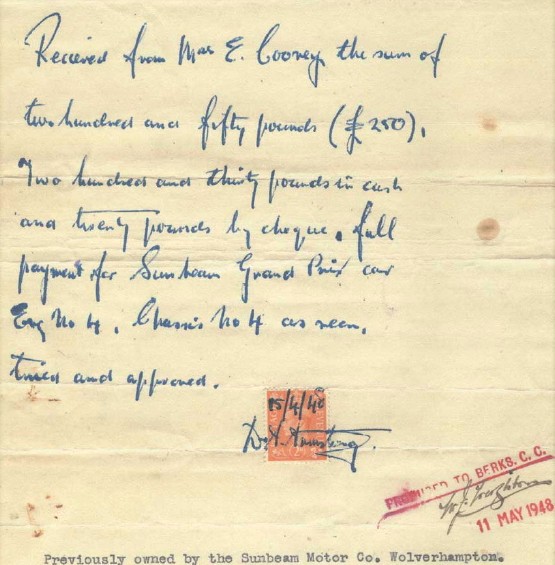 1922 Sunbeam Works
1922 Brooklands testing (unpainted), Jean Chassagne
1922 June IoM testing, J Chassagne, K L Guinness, HOD Segrave
1922 Strasbourg Spare / practice car, driven by all team members. Cylinder block cracked by fire during practice.
1934 Jock Leith of Inverness for £10 "badly burnt extremely rusty", engine block and head cracked. Leith had the car rebuilt at Pavilion Road, Knightsbridge. Work included repair or replacement of cylinder block, pressure oiling was installed and accordingly the dash drip feed removed. Modified body installed with a 1924 cowled radiator, a "square stubby tail" replaced the original. 'Motor Sport' (October 1934) observed the works and reported "Chassis is stamped No. 4, so it is possibly a practice car".
1935 March 26, Guy Griffith a motor dealer of London, W9 purchased the car from Jock Leith for £100 "fairly dilapidated" and said it was "dumped as she was ineligible to race" registered DA6468. Griffith raised the compression using Martlett pistons, installed new Zenith triple diffuser and changed valve timing and offered it for sale in December 1935 for £200 "rebuilt last year" "many new parts".
1935 Donington opening meeting, Guy Griffith, DNF (accident, damaged bodywork, bent front axle))
1935 September 7th Southport 100, Guy Griffith No. 12
1937 G Ken Burness of London E.C. 3
1937 Donington 1st VSCC Donington Club Circuit, G Ken Burness, two podium places
1938 Prescott, G Ken Burness
1938 May 7 Donington, G Ken Burness
1938 August Poole Speed Trials, G Ken Burness (24.45sec)
1941 Major W K Johnson (Canadian) of Colnbrook Bucks "His car is labeled No. 4…the chassis having been completely stripped" (Autocar February 7 1941). Riley radiator and supercharger. "Louis Giron worked on it"
1941 try-out on road with 1.5 litre Riley engine and ENV gearbox (Autocar 1941 June 13)
1942 Body replaced with a new full width two-seater body by John Wyer previously of Sunbeam.
1945? John P Grosscuarth of Maidenhead Berks. "in bits"
1946 Raymond Edwin Grant of Cippenham for sale, engine rebuilt.
1946 Douglas Armstrong of Farnham Royal, Bucks, Editor of 'The Motor' and published for sale in 1948 April "much modified" for £225.
1948 Mrs Cooney of Chobham and Windsor for £250 as Chassis No. 4, Engine No. 4 registered EVB998
1948 Luton Hoo speed trials, Mrs. Cooney, "scarcely a runner"
1962 Colin Crabb for £50. Engine damage repaired.
1963/5 Sold to unknown owner
1973 Paul Grist. Rebuilt and rebodied in a 1922 Strasbourg style body. Engine and chassis now stamped over with No. 1.22 with Identity Plates issued to match and fixed to dashboard and bulkhead, re-registered as DA6436
1974 July Dijon Parade, Phil Hill
1978 Bill Lake. Two big Solex carburetors installed
1978 Prescott Hill-climb, Bill Lake
1978 Goodwood, Bill Lake
1984 Tim Hewison of Melbourne Australia
1985 Nick Langford & John Sheard of O'Neil Sheard of Australia
1989 Graham Little of Oswestry purchased via Coys
1999 Silverstone "100 years of Sunbeam"
2004 Private Collection East Sussex, England