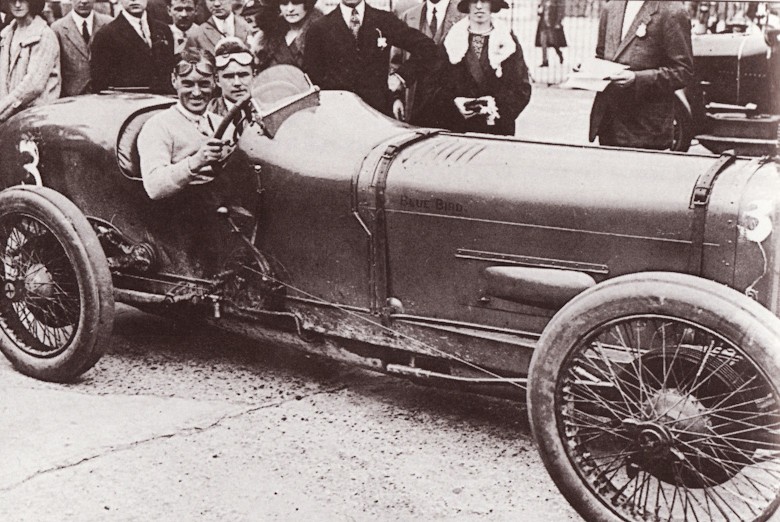 Sunbeam IV
Campbell's 'Blue Bird'
Chassis: No.4
Engine: 3lt straight 8; 1922 Coppa Florio- in-line 6cyl 1916 4.9lt; 1931- replacement 3lt straight 8; 1933 – the 'Gold Star' Vauxhall 30/98; 1988 – 3lt straight 8 no.2
Body: Standard T.T.; 1924 – pointed (non-G.P.) tail; 1989 – T.T. style two seater
Livery: 1922 T.T.- dreadnought grey; 1922 Coppa Florio- dreadnought grey liveried 'Sunbeam'; 1924 – 'Blue Bird Blue' with "Blue Bird" liveried on bonnet; 1925 – liveried 'Firefly I'; 1926 – red with black wheels; 1933 -'Primrose'; 1934 – blue; 1989 – British Racing Green liveried no.1; 2014 – British Racing Green liveried no.4
After success in the 1922 Coppa Florio as S.T.D. Works Team car, the history of this car is bound with speed ace Malcolm Campbell and is one of his 'Blue Bird' cars. During his two seasons ownership, Campbell used the car in a variety of speed events achieving many Brooklands and Hill Climb firsts.
'Blue Bird' was then sold to Dunlop and driven by racing driver Paul Dutoit, erstwhile riding mechanic to H.O.D. Segrave, in Brooklands for one season, tyres testing together with another illustrious Brooklands racing car – the 200 mile Alvis; the cars nicknamed 'Firefly I' and 'Firefly II' respectively.
New ownership in 1926 has given the aging racing car a second lease of life and launched it onto years of remarkable Brooklands racing success, described by William Boddy as "the best run of success by any Brooklands' car in such a period".
Racing success continued well into the 1930s when with a replacement engine it became known first as 'the Munday Special' and later in 1934 'the Bainton Special'.
It was dismantled in the 1950s and later in 1988 resurrected as a 1922 Sunbeam T.T. no.1 and displayed at the Donnington Grand Prix Collection from where it passed to private collections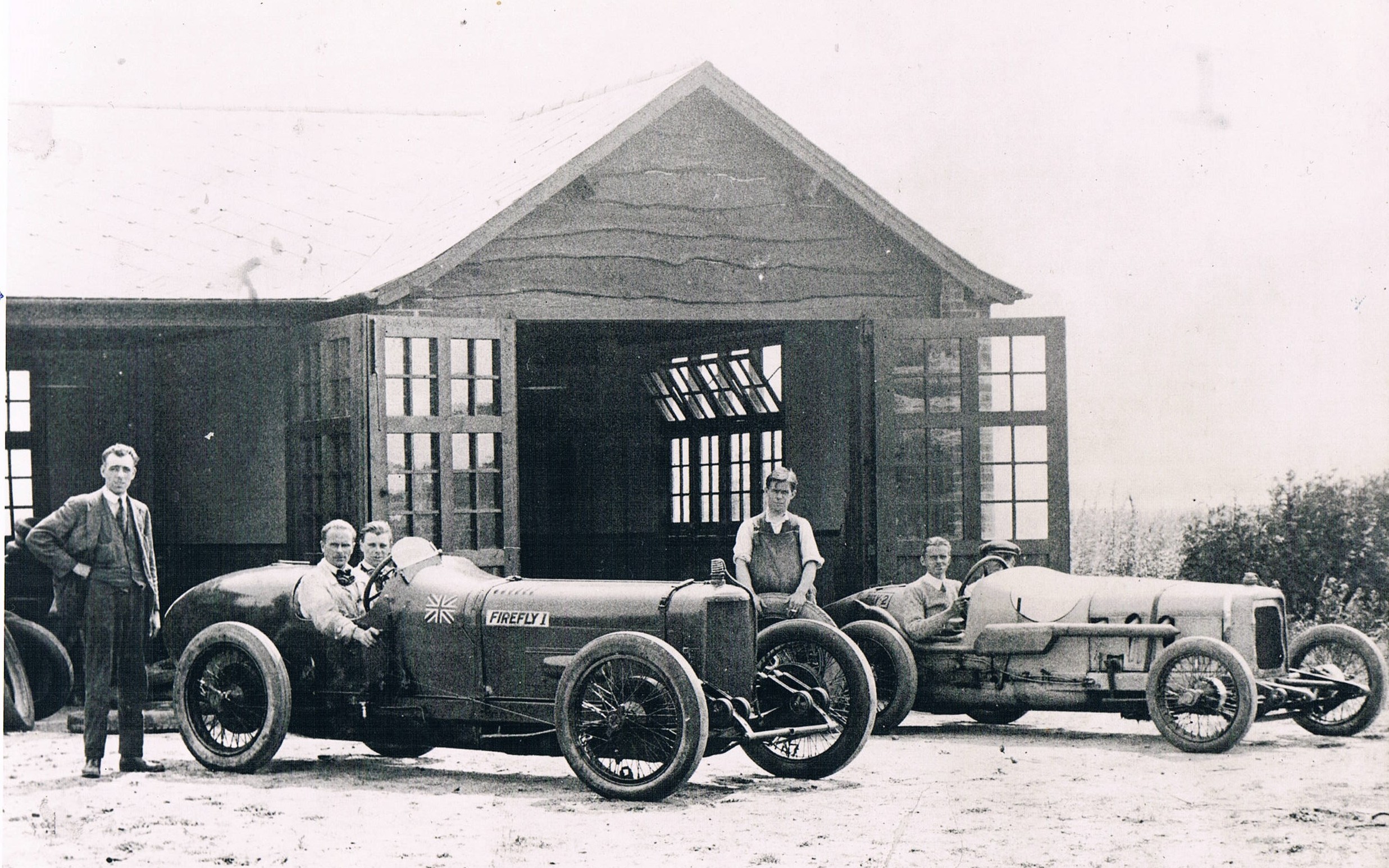 History
1922
June IoM TT Sunbeam straight Eight three litre
November 19 Coppa Florio 268.5 miles (4laps) T.T. body 4.9Lt, race no. 5, 8:15:7 (32.5mph), H O D Segrave, 2nd
1923
June 23 Fanoe Island Denmark Speed Trials, 6-litre Class two-way (fs) mean speed 100mph, M. Campbell registration no. XO3716, 1st
September 8 Shelsley Walsh, T.T. body 4.9lt, race no 35, M. Campbell, reg no XO3716, 54.8sec, 1st (3-litre class)
1924
April 21 Brooklands Easter Meeting Lightening Long Handicap, T.T. body 4.9lt, in 'Blue Bird Blue' with "Blue Bird" on bonnet, M. Campbell XO3716 race 5 no.5, race 10 no.6, 1st (100.5mph), lapping 111.67mph
June 09 Brooklands, T.T. body 4.9lt, M. Campbell registration XO3716 race 3 – car no 2; race 7 – car no 1
June 28 Spread Eagle Hill-Climb, T.T. body 4.9lt, M. Campbell, reg no. XO3716, 2nd fastest time of day 39.8s
June Porthcawl one mile sand course, pointed tail (non G.P.) 4.9lt, M. Campbell, XO3716, ftd 47.4s crossing at 110mph
August 04 Brooklands August Meeting 26th lightening Long & Short Handicap, pointed tail 4.9lt, M. Campbell XO3716, no.3, 1st in both events (107.5 & 103.25 respectively) lapping 112.93 mph
1925
Dunlop Tyre testing at Brooklands liveried 'Firefly I'
1926
Captain (later) Sir A G Miller for £355
April 05 Brooklands Easter Meeting Private competitors Handicap bright red with black wheels & new shock absorbers, A G Miller, 1st 91.75mph
April 24 Brooklands Surbiton MC Meeting Surrey Senior Short handicap, A G Miller; 2nd, 99.5mph Kaye Don in another race
May 24 Brooklands Whitson Gold Vase Handicap A G Miller from Kaye Don on Viper, 1st at 102.7mph lapping at 114.23mph
May 28 Brooklands International Class C Records 1km (ss) & 1 mile (ss) (68.59mph & 78.19mph respectively unconfirmed), A G Miller
June 23 Brooklands Essex MC Senior Long & Lightening Long Handicap, A G Miller, 3rd & 2nd respectively,
July 3 Brooklands Summer 34th Lightening Short Handicap, A G Miller, 1st 102.12mph,
August 02 Brooklands August Bank Holiday Meeting 50th 100mph Handicap, 35th Lightening Sort Handicap, $9th 100 mph Long Handicap, Kaye Don, 3rd, 1st (102.65mph) and 2nd respectively
August 14 Brooklands Essex MC Senior long Handicap & Lightening Long Handicap, Kaye Don, 2 & 3rd respectively
September 11 Brooklands BARC 36th Lightening Short Handicap, Kaye Don, 2nd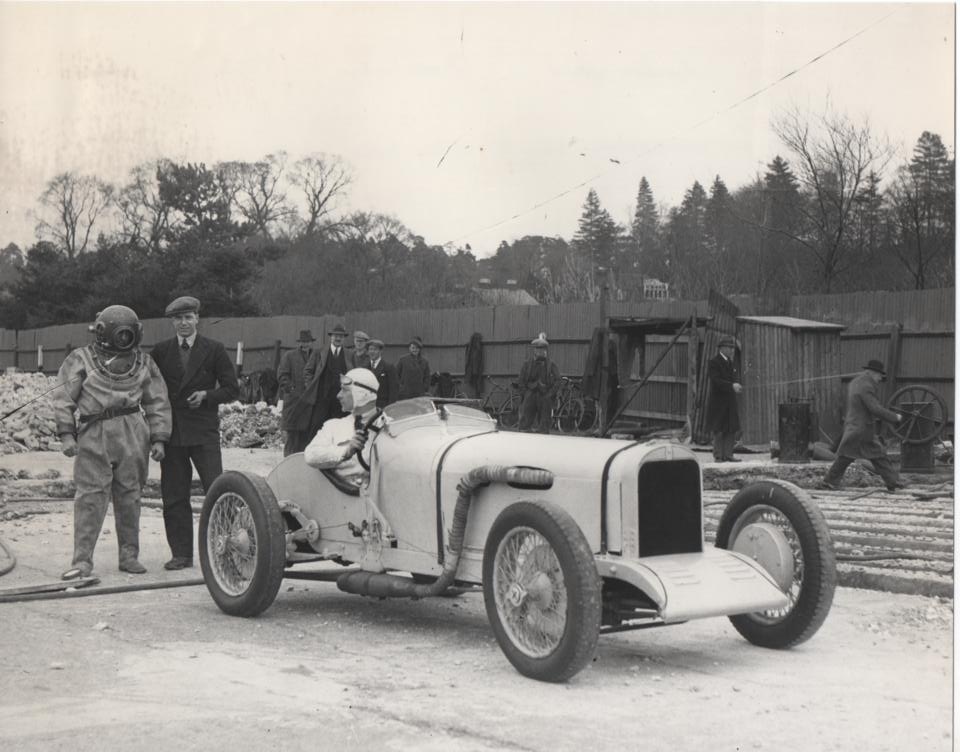 1927
April 18 Brooklands Easter Meetings Founder's, 100mph Long Handicap, Lightening Long Handicap, Kaye Don entrant H Wright 1st, 1st & 2nd (105.03, 107.87) respectively
April 23 Surbiton MC Senior Short Handicap, Senior Long Handicap, All Comers, Kaye Don entrant H Wright 3rd, 2nd & 3rd respectively
1928
E L Bouts for £240 painted red with pointed tail 4.9lt overhauled by T & T but then maintained by him. Initially shared drives with Kaye Don (lapped 116.65mph) & Jack Dunfee (lapped 117.46mph), lapping at 113.71mph, top speed about 130mph at Brooklands Club days & Bank holidays. First car W Boddy has photographed in Brooklands as a child.
April 9 1928 Brooklands Easter 100mph Long & Short Handicap, Kaye Don & J Dunfee, 2nd & 2nd
May 28 Brooklands Whitsun Meeting Gold Star & Founder's Gold Vase, 55th 100 mph Long Handicap, J Dunfee, E L Bouts & J Dunfee 3rd, 2nd, & 1st
September 01 Brooklands Surbiton MC Junior Long Handicap, E L Bouts 1st (102.27mh)
September 22 Brooklands 100mph Long Handicap & Taylor Cup Sprint Race, E L Bouts, 2nd & 1 dead heat respectively
1929
May 20 Brooklands 59th 100mph Long Handicap, E L Bouts 2nd
August 05 Brooklands August Meeting 65th 100mph Short & 46th Lightening Long Handicap, , E L Bouts 3rd & 1st (105.83mph)
1930
March 22 Brooklands Opening Meeting Surrey Short Handicap, , E L Bouts, 3rd
1931
March 14 Brooklands Spring Meeting Lincoln Short & Long Handicap, E L Bouts, 2nd & 1st (101.42mph)
From April 1926 it achieved 12 first places, 15-second places and nine thirds. According to William Boddy "the best run of success by any Brooklands' car in such a period" (200).
The 4.9lt engine fails and scraped by E L Bouts
Advertised by T&T for sale for £180
Geoffrey Daybell
R J Munday (with replacement 3Lt straight 8 engine)
1933
R J Munday with the "Gold Star" Vauxhall 30/98 engine painted Primrose (The Munday Special)
1934
Alan G Bainton with Vauxhall 30/98 engine painted Blue (The Bainton Special)
1935
Post War:
John Howell with Vauxhall 30/98 engine & radiator sold to Sir Ralph Millais in 1957 together with one complete Straight 8 3lt engine, a second one with missing bottom and cracked block. Both missing the side panels, two gearboxes and sundry other parts including crankshaft.
1959 sold to Rob Shand (New Zealand) as a bare chassis with many straight eight three litre engine parts ex John Howell and A S Heal for £125.
1988 the bare chassis was fitted with a spare straight eight 3-litre engine by Ian Jones (Fairlie, New Zealand) for Rob Shand
1989 sold to Tom Wheatcroft and resurrected into a 1922 T.T. configuration race no.1 by Auto-Restoration of Christchurch, New Zealand and subsequently placed on permanent display at the Donnigton Grand Prix Collection, UK
2011 sold to the Sielecki Collection, Argentine via Martin Chisholm
2014 sold via Hall & Hall