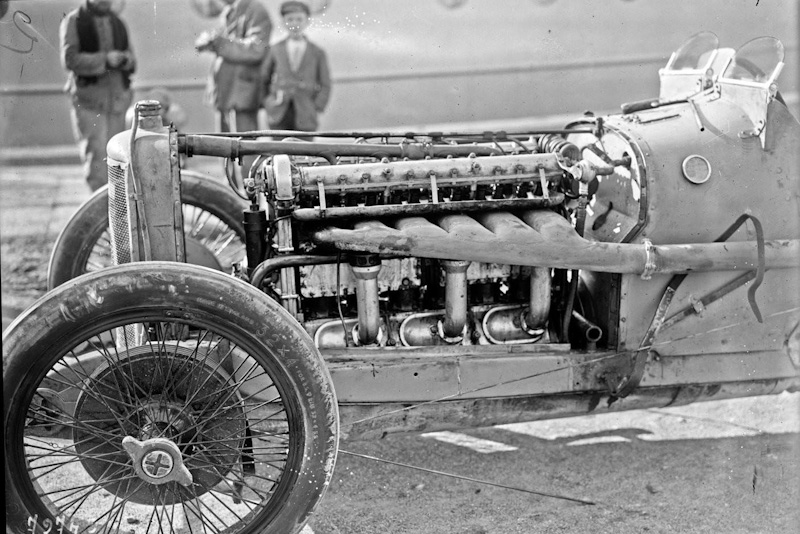 The 1916 4.9lt 6cyl :
"Coatalen produced the world's first twin-cam Six for the 1916 Indianapolis 500" an Ernest Henry prewar Peugeot type in-line six cylinder 81.5x157mm, capacity 4,914cc. Two cast blocks of three; twin overhead camshafts driven by a vertical shaft and gears from the front of the engine; four valve per cylinder (24 in total), 60 degrees included angle. Camshafts castings split horizontally. Pivoted cam followers carried by bronze mountings. Crankshaft in three pieces carried in four large ball bearings; plain big ends. Drilled aluminum pistons – a first for Sunbeam racing car. Dry sump lubrication with two oil pumps – one for the bearings and the other for the camshafts. Mounted on sub-frame articulated with the chassis. Single Bosch magneto ignition driven at ¾ engine speed. Twin CZS Claudel Hobson carburetors mounted on two water-jacketd induction manifolds. Compression ration 5.8:1, 152bhp at 3,200rpm. Two speed gearbox was tried but four speed gearbox with cone clutch generally used; Hotchkiss type drive with bevel back axle. Revolution counter driven by the camshaft.
The engines mounted in a 1914 G.P. Sunbeam chassis were entered in 1916 in a number of American events; racing having ceased in Europe during the war but continued in America prior to the USA entering the conflict. In the careful hands of J Christiaens who suggested their construction, his car regularly finished 'in the Money' winning large prizes including $3,000 (4th) in that year's Indianapolis 300-Mile. The cars also performed well in the hands of Galvin and Louis Chevrolet achieving a number of third places.
In 1919 the 4.9lt engines were mounted in two 1914 T.T. Sunbeam chassis; Josef Christiaens was killed demonstrating one of the cars at Wolverhampton and they were subsequently entered at that year's Indianapolis 500 for J Chassagne and Dario Resta. In the event, they were withdrawn without explanation said to be in excess of 300 cubic inch limit.
Mounted in the 1921 Grand Prix Sunbeam chassis this engine proved competitive and effective at Brooklands until 1929 and in Southport well into the thirties; indeed Will Boddy noted that one of the cars had "the best run of successes by any Brooklands car over such a period". Some of the greatest drivers of the period achieved fine results with the combination of the 4.9lt in a 1921 G.P. chassis including HOD Segrave, Malcolm Campbell and Kaye Don.