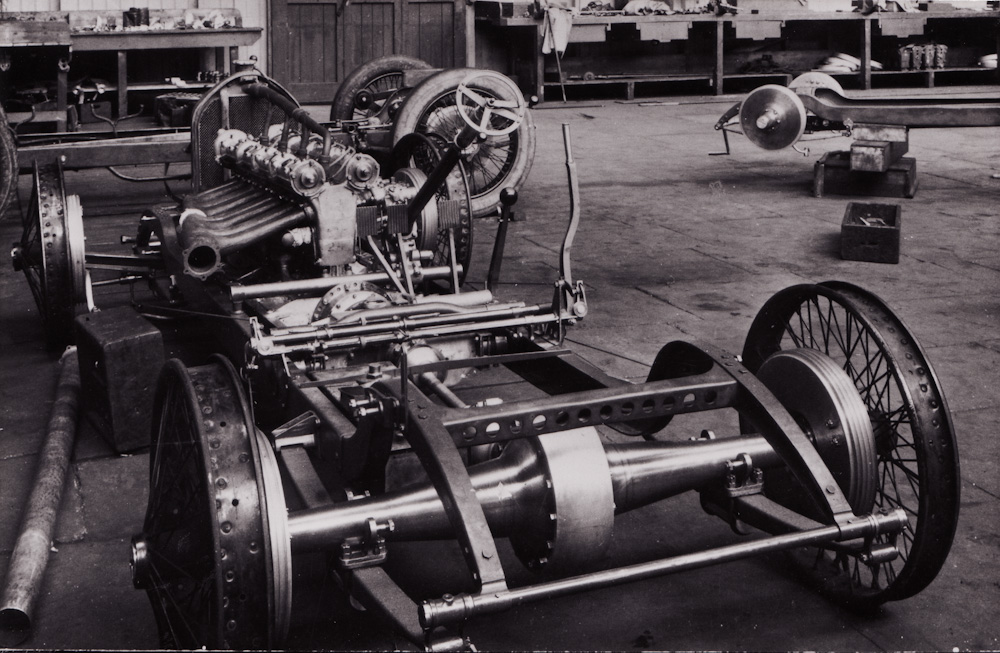 Carburetion (3lt engine):
Various carburetor configurations were used depending on the event including four horizontal Claudel Hobson (1921 Indianapolis 500), four Zenith carburetors (1921 Grand Prix de l'A.C.F.); however, in the Isle of Man Tourist Trophy two racing CZC vertical Claudel Hobson carburetors 42 choke were used.
Fabricated inlet manifolds incorporating water jacket to stop icing.
Fuel feed by pressure from 30-gallon copper bolster tank at rear was used in the Isle of Man Tourist Trophy and the Coppa Florio; other configurations in other events.
Fuel consumption 7-22 mile per gallon 0.7 pint per bhp/hour at 3,000rpm, 0.65 pint per bhp/hour at 3,500rpm.
Ignition (3lt engine):
Delco coil and distributor with a dynamo on the nearside driven from the timing gears was used for the 1921 Indianapolis 500 and that year's French Grand Prix but two high-tension B.T.H four cylinder magnetos on the offside driven by shaft from the camshaft drive gears were used subsequently from 1922 on. Ignition advanced 45 degrees BTDC. Spark control by Bowden lever mounted on the steering column (on steering wheel for the Grand Prix).
Firing order 1,3,4,2,8,6,5,7 (chassis II:1,8,3,6,4,5,2,7).
Transmission (3lt engine):
Separate four forward and one reverse speed gearbox with straight cut gears. Ratio 1 1.165, 1.725 2.5 to 1.
Hele-Shaw multi-plate clutch with six alternating steel and phosphor-bronze plates running in graphite powder.
Hotchkiss-type drive; open propeller shaft.
Bevel driven back axle with alternative ratios. Subtle changes to ratios were made according to the topography of each speed
event :
1921- 13.48 for 3.69:1
1921-14.47 for 3.35:1
1922-13.49 for 3.76:1.
2nd 70mph, 3rd 90mph, 4th 108mph.
Lubrication (3lt engine):
Dry sump lubrication employing two gear-type oil pump (pressure and scavenge). Separate five-gallon oil tank under riding mechanic seat. Minimum safe oil pressure 35lb per square inch.
Cooling (3lt engine):
Water pump mounted on the front of the timing gear case delivering into a gallery pipe along the near side of the engine with eight separate feeds into the cylinder block below the exhaust ports.
Braking System:
For the 1921 Indianapolis 500 small rear wheels brakes only were fitted. Subsequently, Isotta Fraschini-type front wheel brakes actuated by hand lever, rear brakes actuated by right pedal.
Brake cables, running over pulleys, adjustable by ratchets below a sideways hinged 6''x8'' trap door in the floor in front of the riding mechanic. Cast steel ribbed brake drums; cast alloy brake shoes; cast iron segments lining.
Suspension:
Underslung semi-elliptical springs (Jonas Woodhead and Sons – STD subsidiary) all around. Double Hartford shock absorbers fitted at each corner.
Steering:
High-geared laminated spring steel 'Rene Thomas' steering wheel was used. Only one of the surviving Sunbeams is so equipped
Wheels:
Rudge- Whitworth wire detachable.
Tyres:
1921 Indianapolis 500: straight side tyres front 32×41/2 and 33×3 rear.
1921 French G.P. straight side tyres front 815×105 and 820×120 rear.
1922 IoM T.T. Dunlop traction tread straight side tyres 32×4 front and 32×4.5 rear.